2021 Spring Fair Ride OR Game FunCard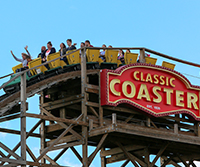 Important: Select your date, specific SillyVille or ThrillVille Ride & Game FunCard, followed by the correct time session.

Note: Spring Fair Drive Thru - Step Out Experience will take an estimated two hours to complete, so plan your ride time accordingly if you are purchasing tickets for both events.

Whirl and twirl on select SillyVille and ThrillVille rides . Ride and game ticket bundles are available as an add-on purchase and are not included with your Spring Fair Carload Admission. Or purchase rides as a stand-alone option and come on a different day!
Spring Fair Carload Admission tickets are NOT required to ride the rides. Ride and game tickets can be purchased and used as a stand-alone or added on to your Spring Fair experience, at an additional cost.
Rides and game tickets are only valid during the session purchased. No refunds or exchanges allowed.
You will only be allowed into the ride area for which you've purchased tickets. Example: if you purchase tickets for SillyVille, you can't enter ThrillVille. If you purchase tickets for both, you will need to exit one area and re-enter for the other area.
Capacity is limited, so make your purchase early to select your chosen time.
Rides and games have established sanitization processes and appropriate group distancing within the guidelines.
Masks must be worn at all times.
Admittance will be based on following the established safety and social distancing guidelines.